Raymond Warner (born January 7, 1992) is a professional scooter rider from Murrieta, California, United States.
Signature Bars (Pro Comp)
Edit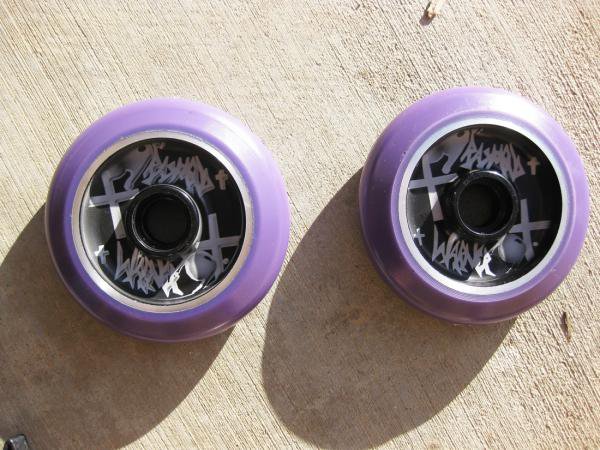 In late January, 2010, Warner unveiled finished prototypes of his wheel online. The product was a purple on black Scooter Zone Twizzler Wheel with Raymond's signature etching on. The etching was his name 'Raymond Warner' written in an urban font accompanies by some crucifixes.
Since then, the design has been changed and variations such as white on black and black on black have been tested. Raymond used some of his signature wheels during the first ISA Scooter Championships in October 2012.
As of yet, these wheels have not had an official release.
Signature Deck (Phoenix)
Edit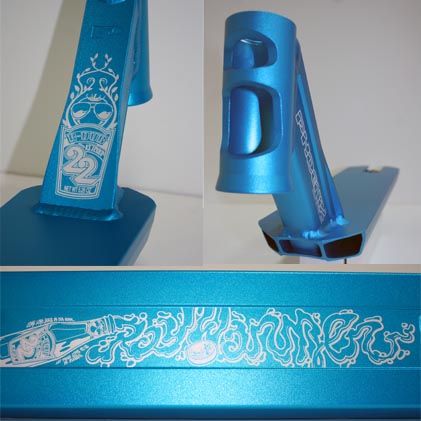 In 2012, n decks, one of which was a Raymond Warner model. It has a length of 19.5 inches, a width of 4.25 inches and a headtube angle of 82.5 degrees. The footplate is bent to have a concave of 6 degrees. It also features the regular Phoenix Switchblade Flex fender braking system. It has an anodised 'Electric Blue' finish and features Raymond Warner's signature etching.
The graphic on the back of the winged headtube shows a tomata wearing shades, emerging from a container labelled 'R-Dub Ketchup / 22 / NET WET 5.25 OZ'.
The graphic on the underneath of the deck shows ketchup flowing out of a bottle (the label on which matches the one on the headtube) and spelling 'Ray Warner'. The graphic on the side of the head is a variation of this same graphic, showing 'Ray Warner' without the ketchup bottle.
These decks are made in the USA and come with a 6 month warantee.
Interviews
Edit