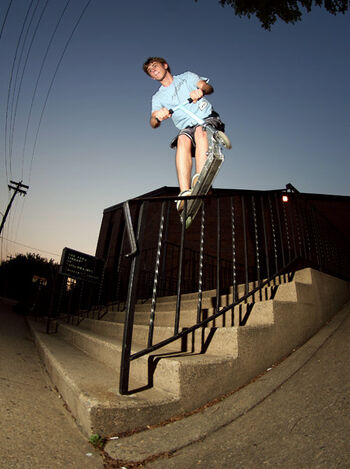 Brian Boston (born June 23 1989) is an ex-freestyle scooter rider from Philadelphia, Pennsylvania, United States. He was known for his contributions toward Scooter Resource as the website's head administrator, his membership in The Philly Crew and most commonly for his invention of the Bri-flip.
In an interview with Inside Scooters, he explained that he got into freestyle scooter riding through his friend, Tim Muller.
Despite Brian's notoriety during the early years of the sport, he was not classed as a 'professional' rider (according to the definition of 'pro' that was held at the time). He competed as an Amateur rider at the original XW and went on to help organize the first 'TIC Contest' at The Incline Club in Lakewood, New Jersey.
Boston made a Sponsorship video for Micro-Xtreme USA featuring several of his Bri-flips, but this effort did not result in a sponsorship from Micro.
Due to the feud between Scooter Resource's founder Andrew Broussard and the administrators/moderators of the website, an opposition was led by Boston to move as many users as possible over to his forum 'TheRideWire,' set up in 2010. Many users signed up to the website but eventually the website had problems caused by hacking in addition to lack of popularity and the website closed down.
In 2013, Boston assisted pro rider Chris Gascoigne in reviving the website and as of March 2013 the website and forum are back in use.
Community content is available under
CC-BY-SA
unless otherwise noted.